Issa Rae is an American writer, actor, and producer of the famous NBO series Insecure. She started out creating videos on YouTube when she got tired of seeing the same type of movies about black people.
Issa Rae has been nominated for the golden globe award, her series has won the shorty award for the best web series. She also heads a media company called Issa Rae presents.
If you haven't watched any episode of InSecure you`ve just found yourself a new best friend. It's like the dope movie for every girl seeking for some kind of succor after a hard week of work!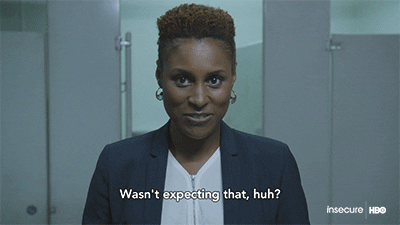 It's so relatable and funny. The story is centered around Issa, a black woman trying to keep it cool with her job in a non-profit, her relationship and her social life.
I came across her show IssaRae presents on a lazy day when I was scrolling through my YouTube feed, and I was stuck. IssaRaePresents does not come up short. Trust me, they never disappoint.
And oh, we've been waiting for the third series of Insecure like…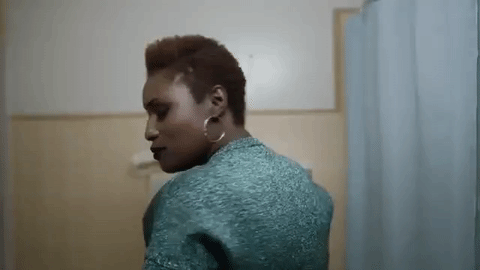 And as usual, we won't be disappointed. Now back to the main point.
The backstage of creating media content is filled with people who never make it to the big screen.  Writers, producers, camera, videographers, directors, editors etc.
A lot of work goes into creating what you finally see on your screen.  The backstage of the movie industry is dominated by males especially in production and directing.
How did a black young woman break that glass ceiling to be her own boss? Let's look at these lessons from her.
On Starting Out:
"I love creating content and YouTube was super accessible. I started my first show in senior year of college in Stanford and I kept growing that audience".
On Being Consistent:
"I had two web series before the misadventures of the Awkward Black Girl. Those series did not gain instant fame but I was consistent throughout releasing those videos by 10 am every Monday and promoting constantly"
Stop finding the ways that you can't and start finding the ways that you can - @IssaRae
Click To Tweet
On Working Hard
"People constantly make excuses on why they can't follow their dreams. Stop finding the ways that you can't and start finding the ways that you can.
Think about what you have now, friends, a camera, a room, whatever you have.  Figure out a way to use what you have to make it work."
On Teamwork
"I tend to have strong opinions about the characters in my shows because I feel I know them personally. Also, I try to loosen the rein and allow debates to go on.
I love collaborating because there are people with a lot of great ideas I love hearing out. Resisting the urge to outrightly say no has been one of the greatest lessons I've learned"
On Creativity
"Life inspires me. I love little moments. I just like real life. Everybody has different areas of discomfort and seeing how certain things concerns people that won't even matter to others intrigues me. I try to understand what makes people think that way and learn from them"
On Overcoming Challenges
"There are definitely challenges. At one end I want to take as many opportunities as I can, on the other hand, I do not want to disappoint myself and other people by not meeting up with deadlines.
Trying to find that work/life balance for the past few years has been challenging"
For Entrepreneurs in Film/Media
"Know your goal. Make sure agencies & companies approaching you are aware of the vision you are working with.
Be sure to have a good team.  Utilizing the people around me was the best thing that happened to me. The team members that I have now started from the ground up with me, that organic growth is part of the reason this show has been a success."
Issa Rae has always kept it 100% real, affirming the fact that her show.  InSecure, is a typification of her life as a young black woman trying to make it in a community that seems to tell her what to do.
She has talked openly about her challenges and fears, and what accepting people's approval has been for her. Her mother at first did not even agree to watch the show.  
From all of these, I learned two important lessons:
1. People crave authenticity
They'll gravitate towards people who are real and original. If you step into a new place and you're a sheep amongst a pack of wolves or the only black female in the room, as long as you have a voice and you keep to that voice, people will gravitate towards you.
2. Everything takes time
Issa affirmed that the first video she did on YouTube was crap, but as years went by and she gathered a team, it got better.
You can tell the difference between her past videos in IssaRaePresents on YouTube and now.
Just like a tree grows, slowly building stronger and deeper foundation which in the end will be able to stand the test of to such is the journey of a business which grows organically.
P.S – All quotes from Issa were gotten from various videos you can find in the link below;
---
 If you'd like to get featured on our Facebook page, click here to share your story with us.