You consider yourself an empowered and independent woman, yes? But what media are you consuming?
Series can be argued to be more effective than movies. Given the generally shorter length of time and ability to watch more often and more accessible.
This is your guide to a few television series that you need to make time for as soon as possible.
Thinking of what TV you should be watching? We've got a few recommendations for you...
Click To Tweet
Chewing Gum
If you haven't heard of Michaela Cole prior to reading this, you're welcome. Your life is about to become dramatically more colorful and interesting.
This show will have you laughing out loud, no doubt. It isn't exactly new, as the second season was released in 2017. The third season is expected to go into production later this year so you have to catch up before that airs!
This female-centric show follows Michaela Cole as the lead in her daily life with her religious mother and sister and her job as a check out girl. Things get interesting when she decides she is serious about losing her virginity and loosening those religious reins.
Cole deals with sex and friendship in a relatable and humorous way. I found that as season one progressed, it just got better and richer as the characters developed.
Cole's sister on the show, Susie Wokoma, is an absolute treat in the second season. I won't delve into too much detail about the specifics of her character development but it is so wonderfully worthwhile to watch.
Mood? If you need a pick-me-up and want to laugh almost non-stop, then this is it.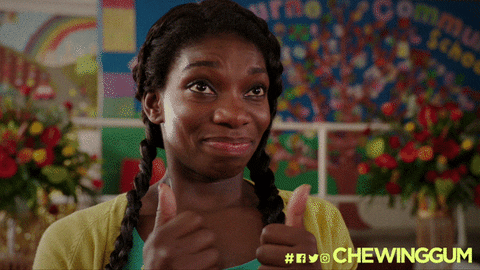 Mood? If you need a pick-me-up and want to laugh almost non-stop, then watch this TV series
Click To Tweet
Good Girls
Netflix can be quite lovely with the recommendations based on previous shows you have watched. This is how I was lucky enough to find this. I managed to finish the first season consisting of 10 episodes in 2 days because I was that blown away.
The show is centered on 3 mothers – Christina Hendricks of Mad Men, Retta of Parks and Recreation (I love her!) and Mae Whitman of Parenthood.  It introduces their characters as hardworking but struggling to support their families financially given their minimum wage jobs.
As viewers, you understand quickly that they're in trouble and something desperate is about to happen as their respective expenses start to skyrocket.
What I loved about the show was how it managed to successfully combine humor and drama so effortlessly. You connect with these women immediately and emphasize with them.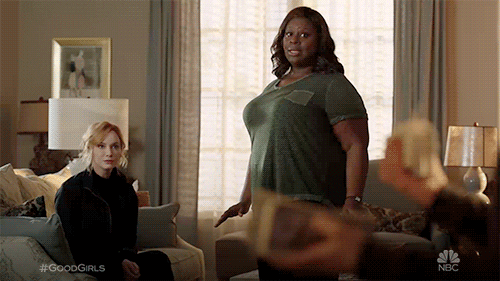 They are presented as strong and willing to do anything for their families. Their growth throughout the episodes is brilliant to witness as they take control of their situations while supporting and uplifting each other through tough circumstances.
Mood? A darker comedy and more dramatic, to be watched when you are feeling a bit broody.
Easy
This breaks the trend of the female-centered shows I've recommended thus far, but it is worthy of inclusion in the list. This content covers – relationships, dating, and gender roles.
What makes it interesting is that each episode follows different characters and issues, there will be some links between characters across episodes but the show isn't continuous. So each episode almost feels like a mini-movie which is highly satisfying.
Topics covered in the first season (there are two seasons out) include a stay at home dad and a working mom and the impact of this change in the stereotypical gender roles on their sex lives (at a dinner party that they attend it is discussed that couples who follow the stereotypical gender roles have more sex).
The issues are current and the episodes unfold in a manner that makes you think about your own opinion and wants to discuss it.
Mood? Watch with a company so you can evaluate your opinions together.
Also, some famous bodies pop up – you can't drool over Orlando Bloom as a personal trainer alone.
---
 If you'd like to get featured on our Facebook page, click here to share your story with us.